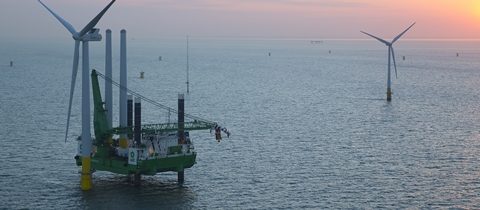 Recent advancements in technology can bring about a long-awaited positive development in the offshore wind industry: reducing weather risk associated with offshore wind turbine installation.
Difficult weather conditions often lead to significant project delays caused by downtime that extends project time and increases costs.
Of course, weather downtime is an unavoidable part of any installation process and must be figured into project costs alongside all of the different activities required of the jack-up, including mobilisation and demobilisation, loading of the wind turbine elements, transit between the port and the wind farm, positioning and jacking, and installation of the turbine.
It is estimated that weather downtime alone accounts for more than a quarter of vessel time. You can see this in the figure below.
This particular breakdown assumes a maximum wind speed of 11m/s for installation of turbine blades and weather conditions typical of the spring and summer months based on an April 1 start date for installation of a wind farm consisting of 63 8MW turbines*.
Greater demands on lifting operations
So what is the significance of this weather downtime?
By far the greatest cause of downtime is high winds and seas. As purpose-built jack-up vessels have become more advanced and robust, they have become less perceptible to weather downtime during transit, positioning and jacking.
Of the total weather downtime, it is estimated that approximately 80-90 percent now occurs during lifting operations. Previously, this part of the downtime was in the region of 60-70 percent. Vessel improvements have pushed weather downtime further out in the process to the lifting operation.
How can we reduce weather downtime? The obvious step is to continue focusing on increasing wind speed limits for lifting operations.
An example reveals the potential benefits. For the representative wind farm described above, increasing the wind speed limit to 16m/s would decrease installation time from a typical 156 days to 119 days, a reduction of more than 23%*.
For an installation starting in October, the reduction is even greater. The typical 252 days at 11m/s would be reduced by 32% to 171 days.
It is also worth bearing in mind that the baselines used in this representative site probably paint a better picture than reality can deliver. Typical maximum wind speeds are around 8-10 m/s, so weather downtime may in some cases be even greater than illustrated.
And still it gets worse: as demand for larger wind turbines grows, maximum wind speed can decrease even more.
New technologies required
There are several indicators suggesting that increasing the maximum wind speed for turbine lifts will not just reduce weather downtime; it is one of the biggest contributors to reducing LCOE.
I believe the ability to work in higher wind speeds lies in the use of new technologies. In addition to reducing weather downtime, these new technologies should help installation contractors to ensure safe working processes and conditions.
An issue facing the industry, however, is that the development, let alone adoption, of relevant new technologies is hindering progress. There seems to be an unwillingness to step outside of current processes, which is probably related to supply chain players protecting their positions and wanting differing agendas.
In fact, there are very few efforts being made in developing new technologies that can increase maximum wind speeds. Some attempts have been made, but the systems lack flexibility and the necessary automation that will truly take lifting operations to the next level.
The industry needs flexible technologies that can be used across different wind farms and turbine types.
Proven results
At High Wind, we have attempted to meet this challenge of decreasing weather downtime. Our objective was to develop an advanced, robust guidance tool that integrates with the jack-up crane.
The tool, 'Boom Lock', can be installed on any vessel and used with any offshore wind turbine. It works by stabilising the hook throughout the lift. It is already certified by ABS to lift turbine components at a 20m/s wind speed, and tests with a 6MW turbine blade proved its capability of lifting blades at 15m/s wind with gusts up to 20m/s.
With such a tool, we aim to help installation contractors work more effectively and safely with less restriction to weather windows. It's surely a benefit to the industry.
*The figures and calculations referred to here are specified in a report by BVG Associates.
Like this post? Subscribe now and get notified about new content!