---
Business case – October 2016:
Increasing maximum wind speeds for offshore wind installation projects
Download this business case analysis by BVG Associates of the main factors contributing to delays and cost increases in offshore wind turbine installation projects. The analysis studies the impact of being able to complete offshore wind turbine installation projects in higher wind speeds.
Request the business case now!
---
Offshore Wind Research Report – March 2016:
Impact of the Boom Lock tool on offshore wind cost of energy
Download this exclusive report on how innovative technologies are being deployed to remove weather risk and improve safety in offshore wind turbine installation.
The report, based on an analysis by BVG Associates, quantifies the impact on levelised cost of energy (LCOE) of reduced vessel use and earlier power generation, based on the use of the "Boom Lock" tool.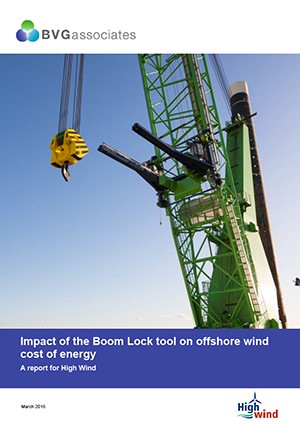 For further information, please contact Ole Jacob W. Nielsen at nielsen.jacob.ole(@)high-wind.eu.